By the numbers: President Biden at the two-year mark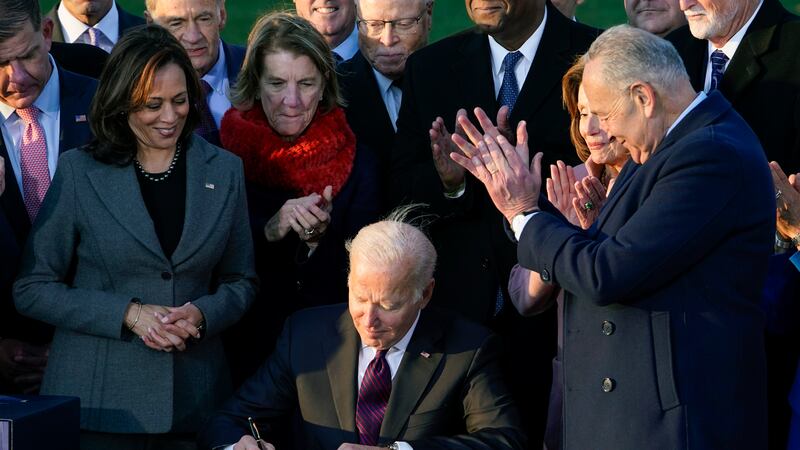 Published: Jan. 19, 2023 at 11:45 AM CST
WASHINGTON (AP) — President Joe Biden notches two years in office on Friday. That represents 730 days since his inauguration — and a whole lot of other numbers as well.
The story of the first half of Biden's term, at least by the numbers, is a mixed bag. It includes a long-sought $1 trillion bill to shore up the nation's bridges, roads and other infrastructure, but also the unwelcome milestone of historic inflation. There's been a huge number of COVID-19 vaccinations, but nearly 680,000 people have died of the disease. Biden has visited three dozen states and spent all or part of nearly 200 days in his home state of Delaware.
A look at some revealing data points at the two-year mark for the 46th president:
38: The number of High Mobility Artillery Rocket Systems, known as HIMARS, committed to send to Ukraine. A gamechanger, allowing Ukrainian forces to fire at Russian targets from far away, then drive away before artillery can target them.
2.38 million: For the 12 months ending Sept. 30, 2022, Customs and Border Protection reported stopping migrants at the U.S. border nearly 2.4 million times, a record surge driven by sharp increases in Venezuelans, Cubans and Nicaraguans. The previous high was 1.66 million in 2021.
97: Confirmation of Biden's picks to the federal bench, including Supreme Court Justice Kentanji Brown Jackson, outpacing the president's two immediate predecessors.
89: The president has granted nine pardons and 80 commutations, far more than any of his recent predecessors at this point. Donald Trump had granted 11 by this time, George W. Bush seven. Barack Obama didn't take any clemency action in his first two years.
$3.36: The average price per gallon that American motorists are paying at the pump has fallen since peaking at $5.02 per gallon in June. Motorists were paying a $2.39 per gallon average the week Biden took office.
666 million: The number of COVID-19 vaccines administered to Americans under Biden. Twenty million had received the jab before Biden took office. The vaccine was not approved until late in Trump's presidency.
15.9%: The percentage of Americans 5 and older who have gotten updated bivalent vaccine.
680,000: The recorded death toll from the coronavirus pandemic during Biden's term. The worst pandemic in more than a century had already taken more than 400,000 American lives by Biden's inauguration and has taken 1.1 million total since March 2020.

36: Biden has spread his travel to states across the country to promote his agenda, but still needs to cross off Arkansas, Indiana, Kansas, Maine, Mississippi, Montana, Nebraska, North Dakota, South Dakota, Tennessee, Utah, Vermont, West Virginia and Wyoming.

197: There's no place like home. The president spent all or part of 197 days in his home state of Delaware, traveling most weekends to either his home near Wilmington or his vacation home at Rehoboth Beach, according to an AP tally. Beyond the weekend visits, he's also made quick trips for funerals, policy events and to cast his ballot in a Democratic primary.

6: Biden has spoken with Chinese President Xi Jinping a half-dozen times since the start of his term. All but one of those were phone or video calls. They met in person on the sidelines of a summit in Indonesia in November.

22: The minimum number of times that Biden has publicly lapsed into a nostalgic recollection of an intimate conversation he had with Xi during a visit to China when Biden was vice president. Biden said Xi asked him to define America and he responded with one word: Possibilities. Biden even managed to squeeze in the anecdote during a celebration this week for the NBA champion Golden State Warriors.

21: Biden held fewer solo or joint news conferences than his three most recent predecessors at the same point in their presidencies.
$1 trillion: The amount allocated for roads, bridges, ports and more in Biden's bipartisan infrastructure legislation, arguably the most significant legislative achievement of his first two years in office.
$40 billion: The amount in the infrastructure bill dedicated to repair and rebuild the nation's bridges, the single largest dedicated investment in bridges since the construction of the Eisenhower-era interstate highway system.
43,000: The number of bridges in the U.S. rated as poor and needing repair, according to the White House.
1: The president's lone state dinner to date honored French President Emmanuel Macron. Biden held back on some of the the traditional pomp — and partying — at the White House in the early going of his presidency because of COVID-19 concerns.

0: Not one of Biden's original Cabinet appointees has left the administration.
___
Associated Press writers Kevin Vineys, Zeke Miller, Colleen Long, Chris Megerian, and Josh Boak contributed to this report.
Copyright 2023 The Associated Press. All rights reserved.