Feds send $930 million to curb 'crisis' of US West wildfires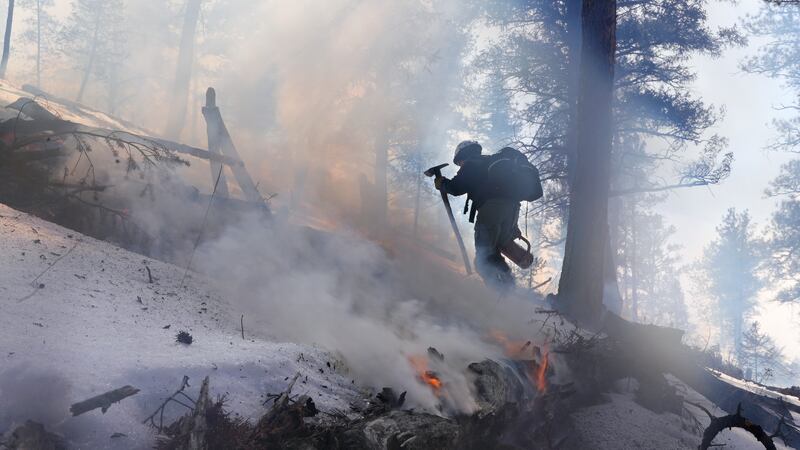 Published: Jan. 19, 2023 at 9:37 AM CST
|
Updated: Jan. 19, 2023 at 5:21 PM CST
BILLINGS, Mont. (AP) — The U.S. is directing $930 million toward reducing wildfire dangers in 10 western states by clearing trees and underbrush from national forests, the Biden administration announced Thursday, as officials struggle to protect communities from destructive infernos being made worse by climate change.
Under a strategy now entering its second year, the U.S. Forest Service is trying to prevent out-of-control fires that start on public lands from raging through communities. But in an interview with The Associated Press, U.S. Agriculture Secretary Tom Vilsack acknowledged that the shortage of workers that has been plaguing other sectors of the economy is hindering the agency's wildfire efforts.
He warned that "draconian" budget cuts floated by some Republicans, who control the U.S. House, could also undermine the Democratic administration's plans. Its goal is to lower wildfire risks across almost 80,000 square miles (200,000 square kilometers) of public and private lands over the next decade.
The work is projected to cost up to $50 billion. Last year's climate and infrastructure bills combined directed about $5 billion to the effort.
"There's one big 'if,' " Vilsack said. "We need to have a good partner in Congress."
He added that fires on public lands will continue to threaten the West, after burning about 115,000 square miles (297,000 square kilometers) over the past decade — an area larger than Arizona — and destroying about 80,000 houses, businesses and other structures, according to government statistics and the nonpartisan research group Headwaters Economics.
Almost 19,000 of those structures were torched in the 2018 Camp Fire that killed 85 people in Paradise, Calif.
"It's not a matter of whether or not these forests will burn," Vilsack said. "The crisis is upon us."
The sites targeted for spending in 2023 cover much of Southern California, home to 25 million people; the Klamath River Basin on the Oregon-California border; San Carlos Apache Reservation lands in Arizona; and the Wasatch area of northern Utah, a tourist draw with seven ski resorts. Other sites are in Idaho, Oregon, Nevada, Washington state, Colorado, New Mexico and Montana.
The idea is to remove many trees and other flammable material from hotspots that make up only a small portion of fire-prone areas but account for about 80% of risk to communities. Vilsack said officials will seek to restore " old-growth forest conditions " — meaning fewer but larger trees that can be resilient against fires.
House Natural Resources Committee Chairman Bruce Westerman said he was glad to see the Biden administration taking "long-overdue action" and streamlining forest management rules. But Westerman questioned why more money will be spent this year even as new projects include fewer acres compared with last year, according to administration documents.
"The Forest Service is still recklessly spending valuable taxpayer dollars with little to no accountability," the Arkansas Republican said in a statement.
A Vilsack aide said there were "no apples-to-apples comparisons" between costs among the landscapes, which differ in terrain, access and the state of the forest. Staffing and equipment issues also factor in, and the differences can make some areas more expensive and time-intensive, spokesperson Marissa Perry said.
"We work to treat not only the most acreage we can, but where it makes the most difference with the resources available," she said.
Some said the administration remained overly focused on stopping fires — a near-impossible goal — with not enough money and resources going to communities and people at risk, including the elderly and people with medical conditions or disabilities.
"Given the scale of how much needs to be done, we are just skimming the surface," said Headwaters Economics researcher Kimiko Barrett. "Risks are increasing at a scale and magnitude that we haven't seen historically. You're seeing entire neighborhoods devastated."
Vilsack said the projects announced so far will help reduce wildfire risk to around 200 communities in the western U.S.
Warming temperatures have dried out the region's landscape and driven insect outbreaks that have killed millions of trees — ideal conditions for massive wildfires.
The impacts stretch across North America, with smoke plumes at the height of wildfire season in the U.S. and Canada sometimes causing unhealthy pollution thousands of miles away on the East Coast.
Last year's work by the Forest Service included tree thinning and controlled burns across 5,000 square miles (13,000 square kilometers) of forest nationwide, Vilsack said.
"We're very targeted in saying, 'Here's where we need to go to reduce the risk,'" Forest Service Deputy Chief Chris French told the AP.
But a key piece of the administration's strategy — intentionally setting small fires to reduce the amount of vegetation available to burn in a major blaze — already has encountered problems: The program was suspended three months last spring after a devastating wildfire sparked by the federal government near Las Vegas, New Mexico, burned across more than 500 square miles (1,295 kilometers) in the southern reaches of the Rocky Mountains.
It was the state's largest fire on record, and several hundred homes were destroyed. Experts have said the environmental damage will linger generations.
Congress has approved nearly $4 billion in assistance for the fire's victims, including $1.5 billion in the massive spending bill passed last month.
"If you're a community, you're going to have to worry about not just nature's fires, but the government's fires, too," said Andy Stahl, executive director of the advocacy group Forest Service Employees for Environmental Ethics. "New Mexico taught us that."
Copyright 2023 The Associated Press. All rights reserved.