Walker scores 20 points in Nebraska's 76-65 loss to Penn State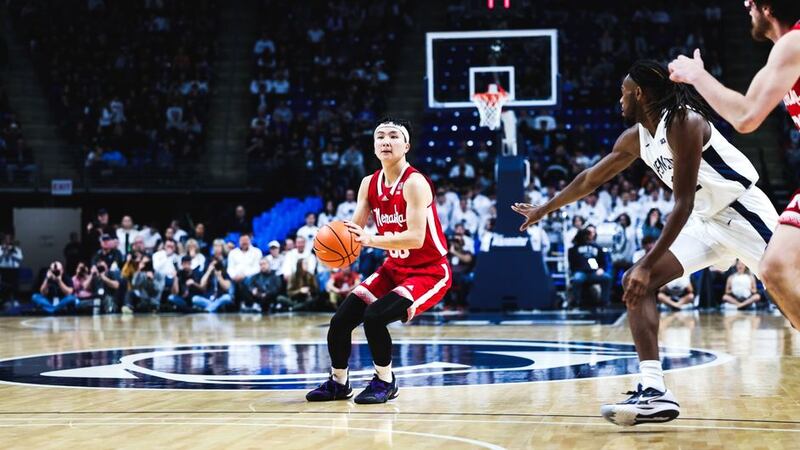 Published: Jan. 21, 2023 at 5:34 PM CST
|
Updated: Jan. 21, 2023 at 10:12 PM CST
STATE COLLEGE, PA. (Press Release) --Derrick Walker totaled 20 points, but the Nebraska men's basketball team fell to the Penn State Nittany Lions 76-65 on the road Saturday.
The Cornhuskers (10-10, 3-6) had four players score in double figures, led by Walker, who had 20 points, six rebounds and six assists. Keisei Tominaga added 13 points and Sam Griesel chipped in as well with 11 points, four assists and five steals.
After falling behind 10-0, Nebraska went on an 8-0 run with 17:25 left in the first half, culminating in a bucket from Emmanuel Bandoumel, to narrow its deficit to 10-8. Penn State answered back and added to its lead, leaving the Cornhuskers down 29-23 entering halftime.
Penn State kept widening its lead after intermission, constructing a 33-26 advantage before Nebraska went on a 7-0 run, finished off by C.J. Wilcher's three, to even the score at 33 all with 16:45 to go in the contest. The Cornhuskers could not turn their rally into a victory, as the Nittany Lions outscored them 43-32 the rest of the way to hand Nebraska the 76-65 loss.
Game Notes
Postgame Notes vs. Penn State
*-Penn State was Nebraska's 13th game against a Quad 1 or Quad 2 team this season.
*-Derrick Walker finished with a team-high 20 points, his fourth 20-point game of the season. Walker also paced NU with six assists, one shy of his career best
*-Sam Griesel recorded a career-high five steals, the most by a Husker since Wilhelm Breidenbach had five against South Dakota last season.
*-C.J. Wilcher finished with 11 points, his first double-figure effort since Dec. 29
*-Keisei Tominaga had 13 points, his third straight game in double figures and 11th double-figure day of the year.
*-The loss snaps Nebraska's two-game win streak in State College
*-Denim Dawson finished with a team-high nine rebounds and has had 17 in his two starts this week.
*-Emmanuel Bandoumel played just 6:35 before leaving with a knee injury
Copyright 2023 KOLN. All rights reserved.