6 vehicles fall through iced lake in Minnesota
Published: Jan. 23, 2023 at 9:48 AM CST
LAKE PEPIN, Minn. (WCCO) - Officials warn ice fishing is never 100% safe, but many anglers on frozen lakes still take their chances - some even risk driving their cars onto the ice.
Half a dozen vehicles fell into a Minnesota lake near the Wisconsin border over the weekend.
"I was out maybe a quarter-mile out, and I had 12 inches of ice out there," said ice fisher Brock Smith on Sunday.
For experienced anglers like Smith, who fishes twice a week at Lake Pepin, to new ones like Jessica Karges, the fish are biting, and the crowds are back.
"Got a couple perch, some walleye, of course gave away the walleye, but still got some food for tonight," Karges said.
Smith said the parking lot was full Saturday, so drivers started parking on the lake. He watched from afar as six vehicles fell through the ice and had to be reeled in.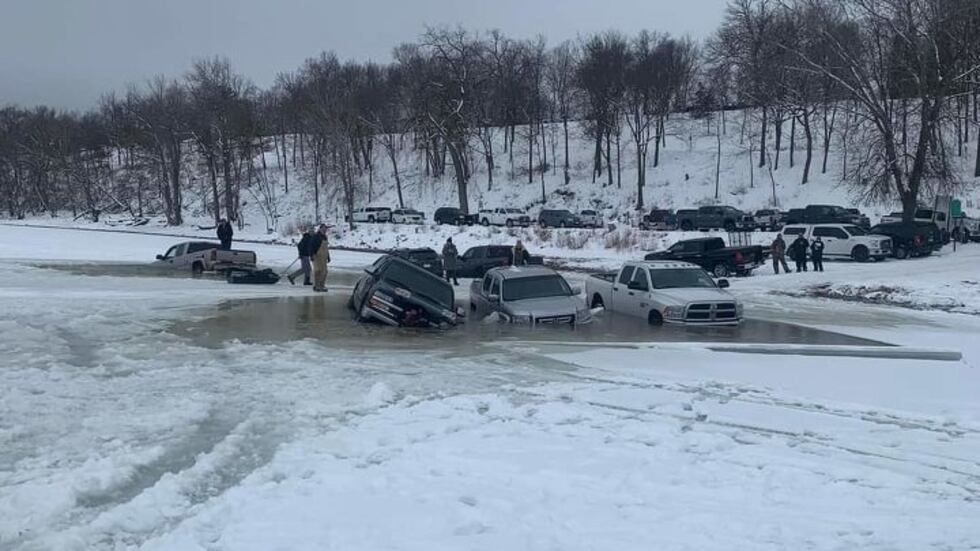 While the ice may look thick enough to park on, the Minnesota Department of Natural Resources said vehicles should park at least fifty feet apart and move every two hours to avoid sinking.
"I felt bad for them because, I mean, it could happen to anybody, and they didn't know they shouldn't have been parking out there," Smith said.
He said he had parked out there the weekend before.
"And somebody came and parked next to me, and I came and did the long walk and moved my vehicle to a parking spot, so that could have been my truck out there," Smith said.
Lake Pepin is a naturally occurring lake on the Mississippi River. After seeing people fall through over the years, Smith hopes for more signage like these new ones put up after Saturday's sinkage.
"The season really it's always like this, so that's why you see a lot of foot traffic and snowmobiles and four wheelers," he said. "And we all wish and wait for us to be able to drive out there."
The DNR says driving a snowmobile or an ATV on ice requires at least five inches of ice. Cars and small trucks need eight to 12 inches.
"Don't park near the shore; just don't park near the shore," Karges said.
Copyright 2023 WCCO via CNN Newsource. All rights reserved.