New Mexico candidate charged in shooting case denied bond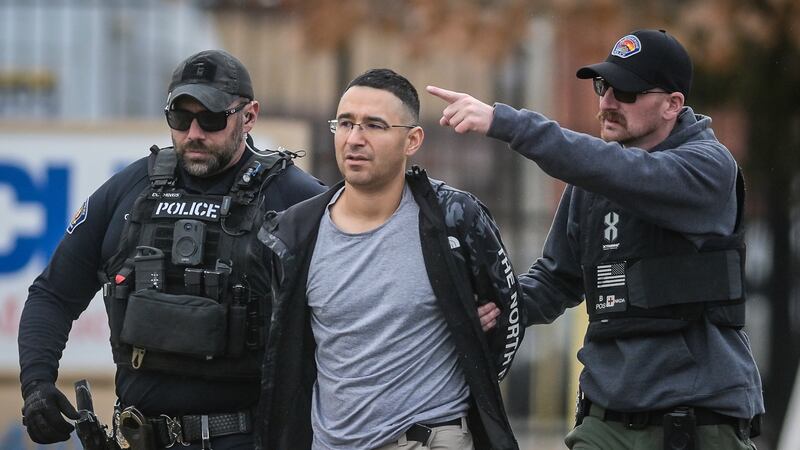 Published: Jan. 23, 2023 at 2:53 PM CST
ALBUQUERQUE, N.M. (AP) — A political newcomer who lost his bid for the New Mexico statehouse and is accused of orchestrating a series of drive-by shootings at the homes of Democratic officials will remain in custody pending trial after a judge agreed Monday that he is a danger to the community.
Solomon Peña, 39, is charged with multiple counts that include shooting at a dwelling and possession of a firearm by a felon. Detectives identified him as their key suspect using a combination of cellphone and vehicle records, witness interviews and bullet casings collected at the lawmakers' homes.
No one was hurt in the shootings, but the case has reignited the debate over whether lawmakers should make it harder for people accused of violent crimes to make bail, as New Mexico struggles with persistent violent crime.
Peña's defense attorney raised questions about the credibility of a confidential witness that shared information with authorities, saying some of the statements used in a criminal complaint were contradictory. She also argued that her client's criminal history did not involve any violent convictions or crimes involving firearms and that he has not been in trouble with the law since his release from prison in 2016, other than two traffic citations.
Prosecutors outlined Peña's time in prison and described him as the "ringleader" of a group that he assembled to shoot at people's homes, saying ballistics testing determined that a firearm found in the trunk of a car registered to Peña was linked to at least one shooting. Another man was found driving that car and arrested on an unrelated warrant.
State District Judge David Murphy agreed with prosecutors, pointing to the nature and circumstances of the allegations and that elected officials appeared to be the targets of at least intimidation or at worst harm.
Murphy acknowledged that Peña's attorney was able to articulate a number of inconsistencies that troubled the court, but that "the weight of evidence against this defendant is strong."
"I find the state has met its burden in proving that there are no release conditions that would reasonably protect the safety of others," he said.
Authorities arrested Peña on Jan. 9, accusing him of paying for a father and son and two other unidentified men to shoot at the officials' homes between early December and early January. The shootings followed his unsuccessful Republican bid for a district long been considered a Democratic stronghold. He claimed the election was rigged.
Police also are investigating donations made to Peña's campaign, including a contribution by one of the men accused of conspiring with him and the man's mother. Detectives said they learned through witness interviews that Peña allegedly arranged with an unknown source to have that source funnel donations to his campaign in the names of other people.
Investigators said they are trying to determine whether the money was generated from drug trafficking.
Court records show that Peña was incarcerated for several years after being arrested in 2007 in connection with what authorities described as a smash-and-grab burglary scheme that targeted retail stores. His voting rights were restored after he completed probation in 2021.
Defense attorney Roberta Yurcic said the past few years showed that Peña was turning his life around, that he earned a bachelor's degree, purchased a home and had job in roofing sales.
She pointed to the criminal complaint and argued that her client, who was arrested at his home, had no firearms and that no DNA or fingerprint evidence has been presented to link him to the weapons seized by authorities through the course of their investigation.
Prosecutors and a police detective confirmed during the hearing that ballistics testing continues on the weapons and casings found at the shooting scenes and in stolen cars thought to be used for the crimes.
Yurcic also argued that prosecutors have not presented any text messages or other evidence besides a confidential witness that her client allegedly asked for the other men to shoot up the officials' homes.
Deputy District Attorney Natalie Lyon told the court that Peña needed to remain in custody.
"With access to a phone, he is able to contact individuals, he is able to convince other individuals to engage in very violent and dangerous acts," she said. "A GPS monitor isn't going to keep him from accessing a phone, pretrial services can't keep him from accessing a phone, even putting him on house arrest isn't going to keep him from accessing a phone."
An assessment that considers his criminal history and several other factors provided recommendations for what level of pretrial supervision Peña should have if released, but Murphy agreed with prosecutors to keep him locked up.
The risk assessment tool has been the focus of much criticism as the public has pushed for Democratic lawmakers and Gov. Michelle Lujan Grisham to consider changes amid Albuquerque's ongoing struggle to combat persistent violent crime and what many perceive as a "revolving door" in the criminal justice system.
Top court administrators in New Mexico have defended the tool, developed by the Arnold Foundation and used in dozens of jurisdictions around the U.S.
Copyright 2023 The Associated Press. All rights reserved.