Biden announces nuclear-powered submarines for Australia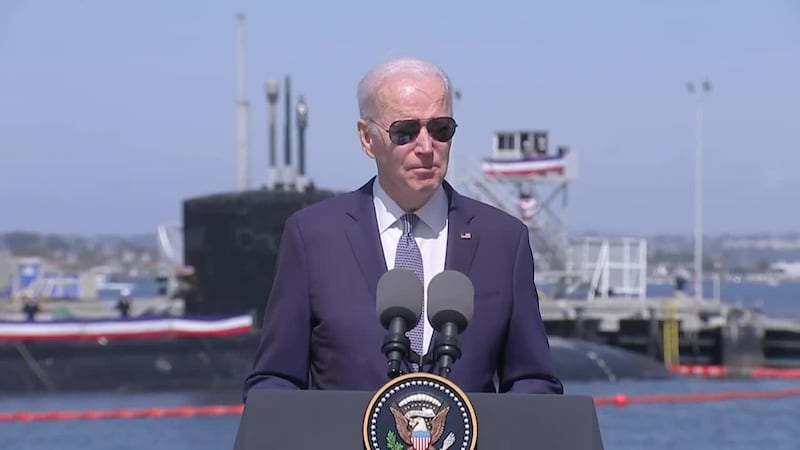 Published: Mar. 13, 2023 at 6:20 AM CDT
|
Updated: Mar. 13, 2023 at 6:47 PM CDT
SAN DIEGO (AP) — President Joe Biden and the leaders of Australia and the United Kingdom on Monday announced that Australia will purchase nuclear-powered attack submarines from the U.S. to modernize its fleet amid growing concern about China's influence in the Indo-Pacific.
Biden flew to San Diego to appear with Australian Prime Minister Anthony Albanese and British Prime Minister Rishi Sunak as they hailed an 18-month-old nuclear partnership given the acronym AUKUS — for Australia, the United Kingdom and the United States.
The partnership, announced in 2021, enables Australia to access nuclear-powered submarines, which are stealthier and more capable than conventionally powered vessels, as a counterweight to China's military buildup.
Biden, appearing sensitive to tensions with China and its criticism of the deal, stressed that the submarines are "nuclear powered, not nuclear armed."
"These boats will not have any nuclear weapons of any kind of them," he said at an outdoor ceremony at Naval Base Point Loma in San Diego, where he was flanked by Albanese and Sunak. Two submarines, the USS Missouri and the USS Charlotte, were tied up at the next pier in the Pacific Ocean behind the leaders.
Albanese said the agreement "represents the biggest single investment in Australia's defense capability in all of our history." It's also the first time in 65 years that the U.S. has shared its nuclear propulsion technology, "and we thank you for it," he said.
Sunak called AUKUS "the most significant multilateral defense partnership in generations." He said the U.K. also will share its 60 years of experience running its own submarine fleet with Australian engineers "so they can build their own fleet."
In a joint statement before the formal announcement, the leaders said their countries have worked for decades to sustain peace, stability and prosperity around the world, including in the Indo-Pacific.
"We believe in a world that protects freedom and respects human rights, the rule of law, the independence of sovereign states, and the rules-based international order," they said in the statement, released before their joint appearance in San Diego.
"The steps we are announcing today will help us to advance these mutually beneficial objectives in the decades to come," they said.
San Diego is Biden's first stop on a three-day trip to California and Nevada. He will discuss gun violence prevention in Monterey Park, California, where 11 people were killed in a January mass shooting, and his plans to lower prescription drug costs in Las Vegas. The trip will include fundraising stops as Biden steps up his political activity before an expected reelection announcement next month.
A fundraiser in Rancho Santa Fe, California, on Monday night is expected to include about 40 attendees and raise $1 million for Democrats, according to a Democratic National Committee official.
Australia is buying three, and possibly up to five, Virginia-class boats as part of AUKUS. A future generation of submarines will be built in the U.K. and in Australia with U.S. technology and support.
The U.S. will also increase its port visits in Australia to provide it with more familiarity with the nuclear-powered technology before it has such subs of its own. The USS Asheville was docked in Perth, Australia, on Monday, Biden said.
Biden also met individually with Sunak and Albanese, an opportunity to coordinate strategy on Russia's war in Ukraine, the global economy and more.
Sunak invited Biden, who is of Irish descent, to visit Northern Ireland in April to help celebrate the 25th anniversary of its peace accord, the 1998 Good Friday agreement. Biden replied that it is his "intention" to go to both Northern Ireland and the Republic of Ireland.
During a subsequent meeting with Albanese, Biden said he planned to visit Australia in May for meetings that will include the leaders of Japan and India.
Biden views the partnerships and alliances in the region as cornerstones for U.S. strategy for years to come. Asked if AUKUS would survive if a new, more isolationist president was elected — a veiled reference to Donald Trump, who is running for another term — Biden said yes.
The secretly brokered AUKUS deal included the Australian government's cancellation of a $66 billion contract for a French-built fleet of conventional submarines, which sparked a diplomatic row within the Western alliance that took months to mend.
China has argued that the AUKUS deal violates the Nuclear Non-Proliferation Treaty. It contends that the transfer of nuclear weapons materials from a nuclear-weapon state to a non-nuclear-weapon state is a "blatant" violation of the spirit of the pact. Australian officials have pushed back against the criticism, arguing that they are working to acquire nuclear-powered, not nuclear-armed, submarines.
"The question is really how does China choose to respond because Australia is not backing away from what it — what it sees to be doing in its own interests here," said Charles Edel, a senior adviser and Australia chair at the Center for Strategic and International Studies. "I think that probably from Beijing's perspective they've already counted out Australia as a wooable mid country. It seemed to have fully gone into the U.S. camp."
Biden downplayed the rivalry with China during his meeting with Albanese.
"I don't view what we're doing as a challenge to anybody," he said.
Before he departed for California, Biden spoke at the White House about steps the administration is taking to safeguard depositors and protect against broader economic hardship after the second- and third-largest bank failures in U.S. history.
Biden said the nation's financial systems are safe. He said he'd seek to hold accountable those responsible for the bank failures, called for better oversight and regulation of larger banks, and promised that taxpayers would not pay for any losses.
___
Superville reported from Washington.
Copyright 2023 The Associated Press. All rights reserved.