Anderson named Golden Spikes semifinalist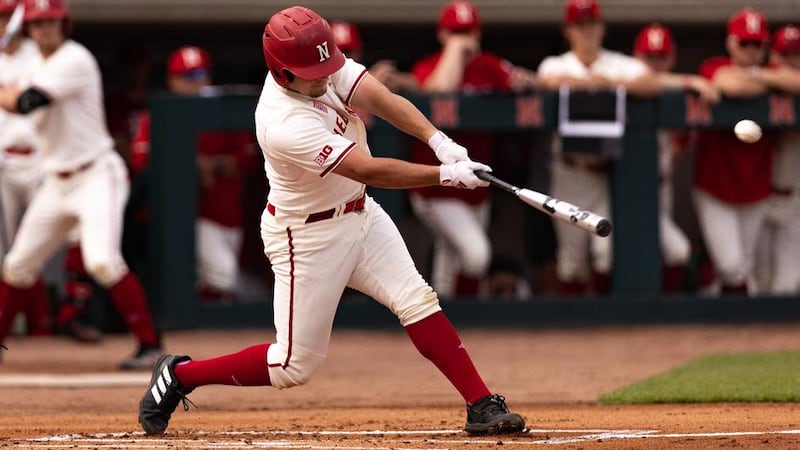 Published: May. 22, 2023 at 4:25 PM CDT
|
Updated: May. 22, 2023 at 4:26 PM CDT
LINCOLN, Neb. (NU Athletic Communications) - Junior Max Anderson was named a semifinalist for USA Baseball's Golden Spikes Award, the organization announced Monday. Anderson is one of 25 student-athletes named to the list, which names the top amateur baseball player in the nation.
Anderson is having a breakout 2023 junior campaign, batting .412 with 19 doubles, two triples, 21 home runs, 69 RBI and 49 runs. Anderson is one of two players national hitting at least .400 at the plate with 21-plus home runs and 65 or more RBI this season. The Omaha native is third nationally with 93 hits on the season while tied for fifth on the single-season charts in program history with 21 home runs and sixth with 42 extra-base hits.
The junior set a Big Ten record in the series finale at Purdue last weekend, becoming the first Big Ten player with 15 home runs in a conference season with a traditional conference schedule. Anderson was recently named a semifinalist for the Dick Howser Trophy along with teammate Brice Matthews.
Fan voting will be a part of the Golden Spikes Award in 2023. Beginning with the semifinalist announcement on May 22 and continuing through the finalist round on June 7, fans from across the country will be able to vote for their favorite player on GoldenSpikesAward.com.
On June 7, USA Baseball will announce the finalists, and the winner of the 45th Golden Spikes Award will be named on Sunday, June 25 on ESPN.
Copyright 2023 KOLN. All rights reserved.