Autopsy finds 'severe neglect' to blame for man's death in bedbug-infested jail cell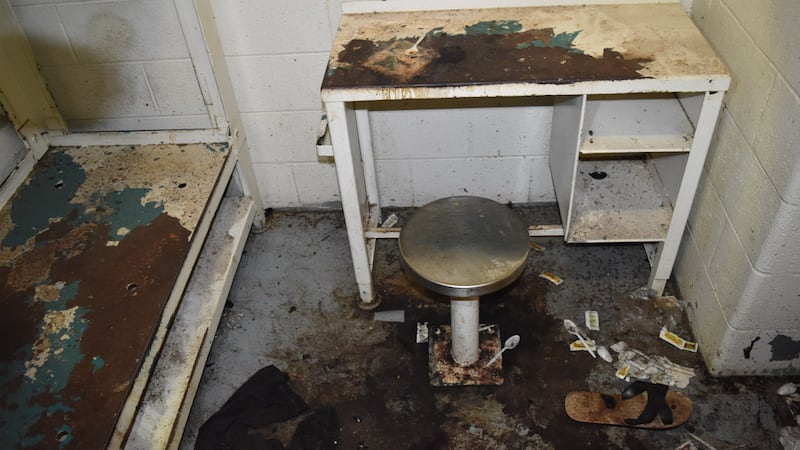 Published: May. 22, 2023 at 2:36 PM CDT
|
Updated: May. 22, 2023 at 4:17 PM CDT
ATLANTA (AP) — A man who died in a bedbug-infested cell in a Georgia jail's psychiatric wing "died due to severe neglect," according to an independent autopsy released Monday by lawyers for his family.
Lashawn Thompson, 35, died in September, three months after he was booked into the Fulton County Jail in Atlanta. Public outrage over his death spread last month after a lawyer for his family, Michael Harper, released photos of Thompson's face and body covered in insects.
"Mr. Thompson was neglected to death," says the autopsy report written by Dr. Roger A. Mitchell Jr., a former chief medical examiner in Washington, D.C., who is now a professor and chair of the pathology department at Howard University College of Medicine.
The independent autopsy report lists the cause of death as "Complications due to Severe Neglect," with "Untreated Decompensated Schizophrenia" identified as a contributing cause.
A combination of dehydration, rapid weight loss and malnutrition, complicated by untreated decompensated schizophrenia led to a fatal cardiac arrythmia, the report says. Because he did not receive necessary medical care or adequate food, water and shelter, his manner of death is homicide, Mitchell wrote.
An earlier report from the Fulton County medical examiner's office found no obvious signs of trauma on Thompson's body but noted a "severe bed bug infestation." It lists his cause of death as "undetermined."
The new autopsy "confirms that this is one of the most deplorable in-custody deaths in the history of America," said prominent civil rights attorney Ben Crump, who represents the family.
The family's lawyers and advocates gave credit to Fulton County Sheriff Pat Labat, who has publicly called Thompson's death "absolutely unconscionable." Labat, who took office in 2021 and has long advocated for a new jail, has said Thompson's death shows that the current jail cannot provide "safe and humane detention."
He said in a statement Monday that he hadn't had a chance to fully review the independent autopsy report but that even before it was issued, "it was painfully clear there were a number of failures that led to Mr. Thompson's tragic death."
He said he had already held executive staff responsible by asking for and receiving the resignations of three top staffers. And he said there could be repercussions for anyone found to be negligent once the full investigation is turned over to the Georgia Bureau of Investigation.
"I remain committed to making sure the Thompson family receives the answers they need and deserve about the unconscionable circumstances surrounding Mr. Thompson's death," Labat said.
The family's lawyers and advocates also called on the Fulton County Board of Commissioners to take responsibility and act quickly to fix the problems at the jail and urged the district attorney's office to bring criminal charges in Thompson's death. They also called on Gov. Brian Kemp to address a "mental health crisis" in the state.
Thompson had lost 32 pounds, or about 18% of his body weight, during his three months at the Fulton County Jail and showed evidence of dehydration, the report says. In addition to an "innumerable number of insects" all over his body, his hands, feet, fingernails and toenails were filthy, it says.
Medical records from the jail indicate that Thompson received his last dose of the medications he'd been prescribed for his mental health issues 32 days before his death, the report says.
"Mr. Thompson was completely reliant on his caregivers to provide both day-to-day care as well as the acute life-saving care that was needed to save him from the untreated decompensated schizophrenia," the report says.
The independent autopsy was paid for by the Autopsy Initiative of the Know Your Rights Camp, an initiative started by former NFL star and activist Colin Kaepernick.
Copyright 2023 The Associated Press. All rights reserved.