Terry McDermott, Olympic speedskating gold medalist in 1964, dies at 82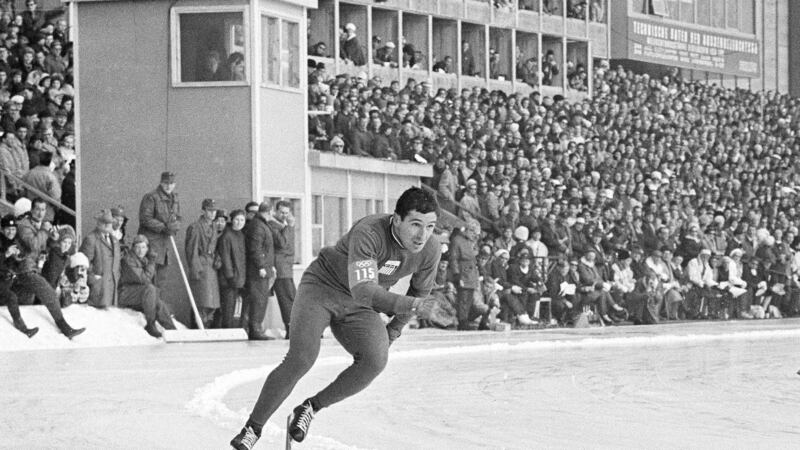 Published: May. 22, 2023 at 5:18 PM CDT
|
Updated: May. 22, 2023 at 5:35 PM CDT
(AP) - Terry McDermott, who won the only gold medal for the United States at the 1964 Winter Olympics and then appeared with the Beatles during their American television debut, has died. He was 82.
U.S. Speedskating said in a statement posted on social media Monday that McDermott died early Saturday surrounded by his family. It did not immediately specify where the Michigan native died or give a cause.
McDermott was an apprentice barber and unheralded figure on the speedskating scene when he stunningly won the 500-meter event at the Innsbruck Games, upsetting two-time reigning Olympic champion Yevgeny Grishin of the Soviet Union by a half-second.
"The Cold War was going on and it carried over into the Olympics. The Russians came along in '56 and dominated every sport. It was awful hard to beat them in anything," McDermott said in a 2010 interview with MLive Media Group. "So, going against them, you tried a little harder."
McDermott's gold was the only victory by any U.S. athletes at the Innsbruck Games. He proved it wasn't a fluke by taking silver in the 500 four years later at Grenoble.
Known as "The Essexville Rocket," a nod to his Michigan hometown, McDermott was rewarded for his Olympic triumph with a Feb. 9, 1964, appearance on "The Ed Sullivan Show."
That same night, the Beatles made their U.S. television debut on Sullivan's show before a screaming audience.
"I really wasn't familiar with them," McDermott said in a 2014 interview marking the 50th anniversary of one of the most famous nights in pop culture history. "I was told they were a famous rock band from England and this was their first appearance in our country. I guess that was huge. People were going wild."
McDermott and his wife, Virginia, who had been married just five months, were invited to Sullivan's dressing room and got a chance to meet the Fab Four.
This led to a remarkable picture in which McDermott, pretending to show off his barber skills, took a clip at Paul McCartney's famed locks while Sullivan and the other Beatles — John Lennon, George Harrison and Ringo Starr — looked on in mock horror.
"We didn't really know of them at the time, but we definitely followed them the rest of their careers," McDermott said in 2014. "Who didn't?"
U.S. Speedskating described McDermott as "one of our all-time greats" who inspired many others to follow his path.
That included Ryan Shimabukuro, a one-time skater who now serves as head coach of the U.S. long track national team.
"I always had great admiration for Terry," Shimabukuro told The Associated Press in a telephone interview. "His legacy both on and off the ice will continue for U.S. speedskating and our sport."
He noted that McDermott is one of the American speedskating stars pictured on a large banner in the training room at the Utah Olympic Oval. Shimabukuro also remembers McDermott serving on the interview committee when he landed a coaching job on the national staff in 2002.
"He wanted to give back after his skating career was over, and he did that for decades," Shimabukuro said.
Mike Plant, a former Olympic speedskater who now serves as a top official with baseball's Atlanta Braves, also remembered McDermott's tireless devotion to a sport that garners little attention in the U.S. except during the Olympics but has produced a total of 91 medals — more than any winter sport except skiing.
"We all knew who he was," Plant told the AP. "We knew his success on the ice, but we also knew he was just one of those guys, and it was a small group of them, who constantly gave back weekend after weekend. They were always there."
McDermott was eager for speedskating to carry on its legacy as one of America's greatest Winter Olympic sports, even though his efforts came with no financial reward.
"A guy of incredible character," Plant said. "He always helped. He was always concerned with you getting better on and off the ice."
At Innsbruck, Grishin posted a time of 40.6 seconds in the second pairing of the 500. While two skaters would match his time, no one beat it until McDermott went off in the 17th pair.
McDermott crossed the line in 40.1 to shatter Grishin's Olympic record and deny the Soviet great from adding to the four gold medals he had won at the two previous Winter Games.
In 1968, McDermott turned in another stellar performance at Grenoble, even though he had largely been away from the sport for two years.
In an era when speedskating was held on outdoor ovals, a poor draw left the American skating late in the session with the condition of the ice deteriorating rapidly. Still, he managed the second-best time of 40.5, sharing the silver with Norway's Magne Thomassen behind the winner, Erhard Keller of West Germany.
McDermott, who carried the American flag at the opening ceremony in 1968, always considered that silver medal to be on par with his gold.
"That was a big challenge and I look at that as a big accomplishment," McDermott said. "After not skating for a couple years it was very different, so it was very rewarding to come that close."
McDermott was a three-time Olympian, finishing in a tie for seventh in the 500 at the 1960 Squaw Valley Games.
But he was remembered by later generations for his other contributions. He took the oath for judges at the 1980 Lake Placid Games, traveled to a dozen Winter Olympics, served in various roles with U.S. Speedskating, and worked as a television and radio analyst.
He got a first-hand look at the American greats who came after him, including Eric Heiden, Dan Jansen and Bonnie Blair.
"It's part of my life," he told MLive. "I have so much appreciation for speedskating. It's given me a lot of benefits, a lot of rewards."
At last year's Beijing Olympics, the U.S. speedskating team won three medals, including Erin Jackson's gold in the women's 500.
"As they say, success breeds success," Shimabukuro said. "I can't speak enough of Terry's impact and influence in the sport."
___
AP sports: https://apnews.com/hub/sports and https://twitter.com/AP_Sports
Copyright 2023 The Associated Press. All rights reserved.