Montana first to ban people dressed in drag from reading to children in schools, libraries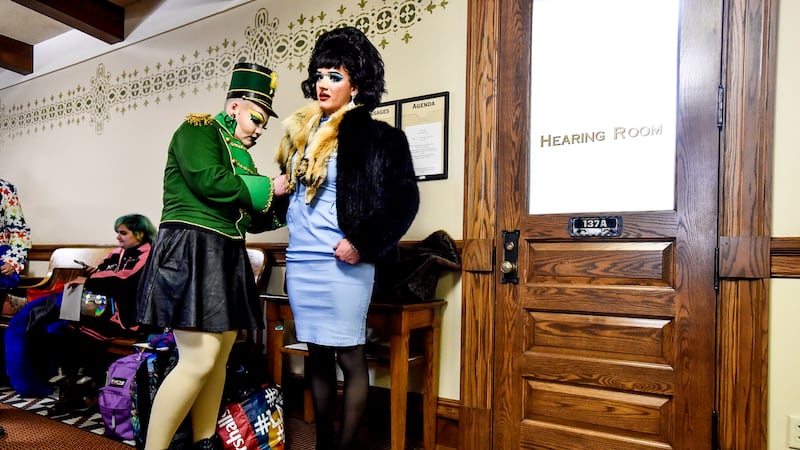 Published: May. 23, 2023 at 5:46 PM CDT
|
Updated: May. 23, 2023 at 9:53 PM CDT
HELENA, Mont. (AP) — Montana has become the first state to specifically ban people dressed in drag from reading books to children at public schools and libraries, part of a host of legislation aimed at the rights the LGBTQ+ community in Montana and other states.
Bills in Florida and Tennessee also appear to try to ban drag reading events, but both require the performances to be sexual in nature, which could be up for interpretation. Both bills also face legal challenges.
Montana's law is unique because — while it defines such an event as one hosted by a drag king or drag queen who reads children's books to minor children — it does not require a sexual element to be banned.
That makes Montana's law the first to specifically ban drag reading events, said Sasha Buchert, an attorney with Lambda Legal, a national organization that seeks to protect the civil rights of the LGBTQ+ community and those diagnosed with HIV and AIDS.
"It's just constitutionally suspect on all levels," Buchert said Tuesday, arguing the bill limits free speech and seeks to chill an effort that helps transgender youth know they are not alone.
The bill, which was co-sponsored by more than half of the Republican-controlled legislature, took immediate effect after Republican Gov. Greg Gianforte signed it on Monday.
Gianforte signed the bill because he "believes it's wildly inappropriate for little kids, especially preschoolers and kids in elementary school, to be exposed to sexualized content," spokesperson Kaitlin Price said in a statement.
The bill initially sought to ban minors from attending drag performances, which were defined as shows that tended to "excite lustful thoughts." The legislation was later amended to ban minors from attending sexually oriented or obscene performances on public property.
The bill's sponsor, Republican Rep. Braxton Mitchell, said he sponsored the bill "because drag shows in recent years have been specifically aimed at children," and spoke of online videos that show children at drag shows.
"In my humble opinion, there's no such thing as a family-friendly drag show," Mitchell said in April.
Drag performers who opposed the legislation said they have separate drag performances for children compared to those intended for adults.
It's not clear how often such drag reading events have been held at public schools or libraries in Montana. Drag reading events were held in 2022 at ZooMontana in Billings and at a bookstore in downtown Helena. Both events drew protests, but neither would be banned under the new law. Another event held at a Bozeman bookstore last weekend also drew protesters.
A Montana drag performer with The Mister Sisters in Great Falls, whose stage name is Julie Yard, helps organize drag reading events and says she has never been asked to coordinate one in any school — public or otherwise. Between 6 to 10 events are scheduled throughout the state in the coming months.
"Usually the requests for drag story hours happen a lot through the summer," Yard said. "They typically tend to coincide with Pride celebrations."
Planning such events in the current political climate also involves developing a safety plan and working with local law enforcement in case protesters show up.
The drag reading events will continue despite the protests, which Yard says helps prove that they are needed.
"For us, it's again just doubling down and making sure that we are sending a message out there to anyone, but especially kids who are vulnerable, that there is a place for them, there is a community for them, and that there are folks out there who are interested in making sure that they are accepted and feel safe."
Tennessee's bill to restrict drag performances in public spaces or in the presence of children was temporarily blocked in March by a federal judge who sided with a group that filed a lawsuit claiming the statute violates their First Amendment rights. U.S. District Judge Thomas Parker said the state failed to make a compelling argument as to why Tennessee needed the law, and agreed that it was likely vague and overly broad.
A drag show restaurant has filed a challenge against Florida's ban, saying the law deprives the restaurant of its First Amendment rights to free expression. The restaurant had held "family friendly" drag shows on Sundays, but the law required them to ban children from the shows. Gov. Ron DeSantis also signed bills this week to ban gender-affirming medical care for minors and restrict the discussion of personal pronouns in school.
Gianforte signed a bill this year to ban gender-affirming care for transgender minors in Montana during a legislative session in which transgender lawmaker Democratic Rep. Zooey Zephyr was expelled from the House floor following a protest against Republican lawmakers who had silenced her over her opposition to the care bill.
Last week, he signed a bill to define the word "sex" in state law to mean only male or female. Kansas and Tennessee have similar laws set to take effect on July 1 that LGBTQ+ allies argue will deny legal recognition to nonbinary and transgender people and prevent them from changing the sex on their birth certificates and driver's licenses. Montana's law would take effect on Oct. 1.
Copyright 2023 The Associated Press. All rights reserved.