Sunny with warm conditions Tuesday; Active pattern starts during the day Wednesday into Memorial Day weekend
Published: May. 23, 2023 at 8:36 AM CDT
|
Updated: May. 23, 2023 at 12:35 PM CDT
NORTH PLATTE, Neb. (KNOP) -SCOTTSBLUFF,Neb.(KNEP)- After a warm and mainly sunny start to the workweek, these trends will continue into the day Tuesday, with an active pattern starting Wednesday, lasting into the Memorial Day weekend.
As high pressure continues to remain in control during the day Tuesday. Since we will see a southerly flow across the area, this will bring up the humidity and warm temperatures, with values in the low to mid 80s, and breezy winds with speeds around 5 to 15 mph. These suppressed conditions Tuesday will continue to bring sunny skies during the day. Overnight lows will drop into the mid to upper 50s with slightly breezy conditions still around and humidity levels remaining high.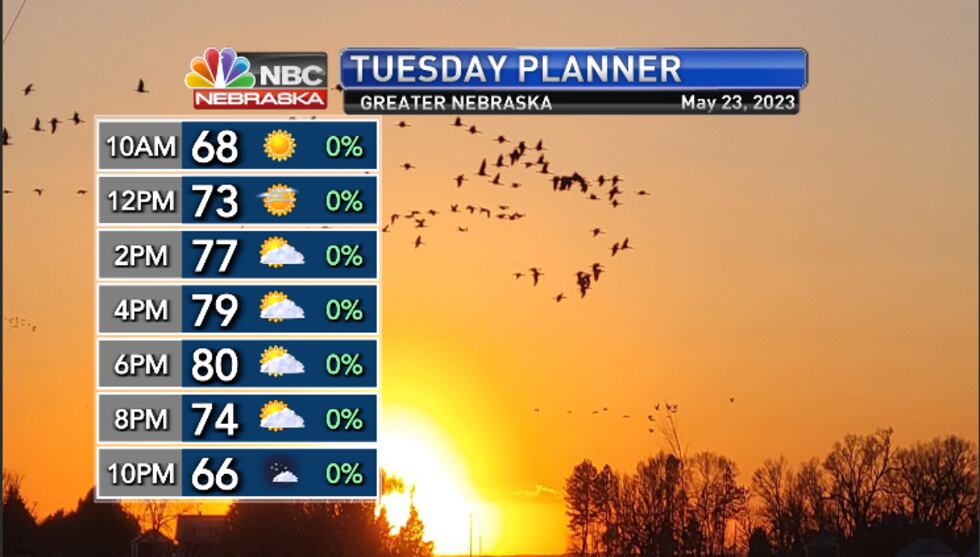 As we head into Wednesday into the Memorial Day weekend, an active pattern will be setting up across the region. This will bring in waves of showers and thunderstorms across the region. This will give us well-needed rainfall over the next 5 days, with 1 to 2 inches of rainfall with locally higher amounts in heavier storms. Severe weather potential is still up in the air at this time during this duration, but we will keep you posted as we continue along the way. Highs will be mainly in the mid 70s to low 80s.
Copyright 2023 KNOP. All rights reserved.