America aged quickly in the last decade as baby boomers lived longer and births dropped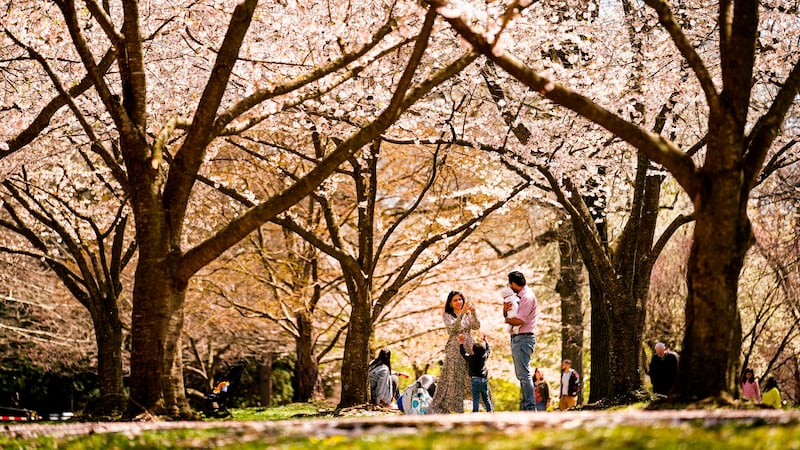 Published: May. 25, 2023 at 8:50 AM CDT
|
Updated: May. 25, 2023 at 12:34 PM CDT
(AP) - The United States grew older, faster, last decade.
The share of residents 65 or older grew by more than a third from 2010 to 2020 and at the fastest rate of any decade in 130 years, while the share of children declined, according to new figures from the most recent census.
The declining percentage of children under age 5 was particularly noteworthy in the figures from the 2020 head count released Thursday. Combined, the trends mean the median age in the U.S. jumped from 37.2 to 38.8 over the decade.
America's two largest age groups propelled the changes: more baby boomers turning 65 or older and millennials who became adults or pushed further into their 20s and early 30s. Also, fewer children were born between 2010 and 2020, according to numbers from the once-a-decade head count of every U.S. resident. The decline stems from women delaying having babies until later in life, in many cases to focus on education and careers, according to experts, who noted that birth rates never recovered following the Great Recession of 2007-2009.
"In the short run, the crisis of work-family balance, the lack of affordable childcare, stresses associated with health care, housing, and employment stability, all put a damper on birth rates by increasing uncertainty and making it harder to decide to have and raise children," said Philip Cohen, a sociologist at the University of Maryland.
There are important social and economic consequences to an aging population, including the ability of working-age adults to support older people through Social Security and Medicare contributions. The Census Bureau calculates a dependency ratio, defined as the number of children plus the number of seniors per 100 working-age people. While the dependency ratio decreased for children from 2010 to 2020, it increased for seniors by 6.8 people.
At the top end of the age spectrum, the number of people over 100 increased by half, from more than 53,000 people to more than 80,000. The share of men living into old age also jumped. Buddy Lebman, a 98-year-old in the St. Louis area, said the key to longevity is good genes and staying active. He plays bridge twice a week, leads a discussion on current events at his retirement community, and is still involved with his synagogue and a school he helped found. Up until five years ago, he went on regular bicycle rides.
"I just recently had my pacemaker checked out, and the doctor told me it's good for 4 1/2 more years," Lebman said. "So I have to live at least that amount."
People reaching age 100 benefited from a century of vaccines and antibiotic developments, improvements in surgery and better treatment of diseases, said Thomas Perls, a professor of medicine at Boston University.
"Many more people who have the genetic makeup and environmental exposures that increase one's chances of getting to 100, but who would have otherwise died of what are now readily reversible problems, are able to fulfill their survival destiny," Perls said.
The Census Bureau released two earlier data sets from the 2020 census in 2021: state population figures used to decide how many congressional seats each state gets and redistricting numbers used to draw political districts. Thursday's data release was delayed by almost two years because of pandemic-related difficulties gathering the information and efforts by the Census Bureau to implement a new, controversial privacy protection method that uses algorithms to add intentional errors to obscure the identity of any given respondent.
This was the first census since the U.S. Supreme Court legalized same-sex marriage in 2015, and it showed same-sex households made up 1.7% of coupled households. Since the census didn't ask about sexual orientation, it didn't capture LGBTQ+ people who are single or don't live with a partner or spouse.
The median age varied widely by race and ethnicity. Non-Hispanic whites were the oldest cohort, with a median age of 44.5. Hispanics were the youngest, with a median age of 30; and a quarter of all children in the U.S. were Hispanic. Black Americans who weren't Hispanic, had a median age of 35.5. The number was for 37.2 for Asians.
Utah, home to the largest Mormon population in the U.S., was the youngest state, with a median age of 31.3, a function of having one of the nation's highest birthrates. The District of Columbia's median age of 33.9 was a close second due to the large number of young, working-age adults commonly found in urban areas. North Dakota was the only state where the median age declined, from 37 to 35.8, as an influx of young workers arrived to work in a booming energy sector.
Maine was the oldest state in the U.S., with a median age of 45.1, as more baby boomers aged out of the workforce. Puerto Rico had a median age in the same range, at 45.2, as an exodus of working-age adults left the island after a series of hurricanes and government mismanagement. Older adults in four states — Florida, Maine, Vermont and West Virginia — made up more than a fifth of those states' populations.
Sumter County, Florida, home of the booming retirement community The Villages, had the highest median age among U.S. counties, at 68.5; while Utah County, home to Provo, Utah, and Brigham Young University, had the lowest at 25.9.
As one of the youngest baby boomers, Chris Stanley, 59, already lives in The Villages. She said her mission in later life is to let younger generations know they can affect change despite perhaps not having the same economic opportunities she did.
"I want to impart the urgency that I feel," she said. "They can make it better."
While people 65 and older made up 16.8% of the 331 million residents in the U.S. in 2020, the share was still significantly lower than it was in countries like Japan, Italy and Greece, where the age cohort makes up between more than a fifth and more than a quarter of the population. However, their share of the U.S. population will continue to grow as baby boomers age.
"In the long run, immigration is the only way the United States is going to avoid population decline," Cohen said.
___
Follow Mike Schneider on Twitter at @MikeSchneiderAP
Copyright 2023 The Associated Press. All rights reserved.