Dale Records Fifth-Straight Brace in NU's 3-2 Loss to SLU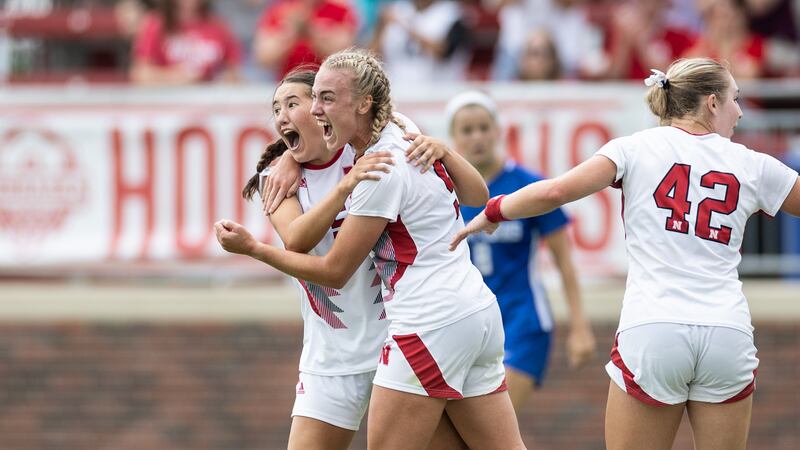 Published: Sep. 10, 2023 at 6:05 PM CDT
LINCOLN, Neb. (Nebraska Athletics) - Senior Eleanor Dale tallied her fifth-straight brace, as the #24 Nebraska soccer team fell to Saint Louis 3-2 on Sunday afternoon at Hibner Stadium in front of 1,267 fans.
Overall, the Huskers led in shots (17-16), shots on goal (11-8) and corners (7-3), but it was not enough as NU fell to 6-1-1 and SLU improved to 5-2-1.
The teams were scoreless in the first half, but the Huskers took six shots, led by Dale with two and one on goal. Saint Louis held the 6-5 advantage in shots, but the Huskers led in shots on goal (3-2) and corner kicks (3-1).
After the break, both teams got going offensively as all goals were scored in the final 45 minutes. In the 56th minute, Dale netted her second penalty kick of the season off a handball by the Billikens in the box.
SLU then came back with goals in the 64th (Jess Preusser) and 67th (Katie Houck) minutes to take the 2-1 lead before Dale recorded the equalizer and her 12th finish of the season in the 76th minute. Sophomore Briley Hill, off a throw from redshirt freshman Ella Guyott, sent a cross to Dale who met the ball and took the diving shot into the back of the net.
The teams were tied 2-2 until Saint Louis' Abbie Miller tallied the game-winner off assists from Hannah Sawyer and Sophie Stram.
Senior goalkeeper Sami Hauk tallied five saves on the night and played the complete game, alongside defenders Lauryn Anglim and Nicola Hauk, and forwards Dale and Sarah Weber who also played 90 minutes.
NU continues its three-game homestand next weekend as it hosts Wisconsin on Friday, Sept. 15 at 7:05 p.m. (CT). The match will be streamed on Big Ten+.
Copyright 2023 KOLN. All rights reserved.