Huskers Sharp in Sweep of Long Beach State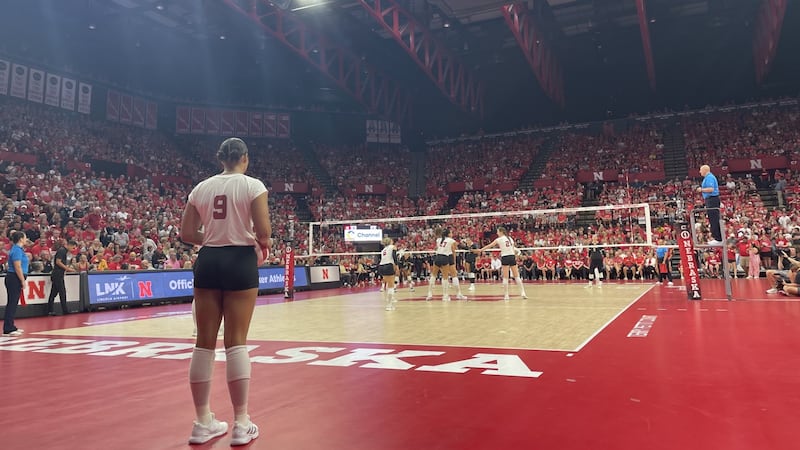 Published: Sep. 9, 2023 at 10:48 PM CDT
|
Updated: Sep. 9, 2023 at 11:15 PM CDT
LINCOLN, Neb. (Nebraska Athletics) - The fourth-ranked Nebraska volleyball team improved to 7-0 with a 25-18, 25-8, 25-21 sweep of Long Beach State in front of a crowd of 8,589 at the Bob Devaney Sports Center on Saturday night.
The Huskers fired on all cylinders to a season-best .393 hitting percentage. Six different Huskers had at least four kills, led by Harper Murray's 10, Merritt Beason's nine and Andi Jackson's eight. Murray hit .333 in the match, Beason hit .350 and Jackson hit .667.
Ally Batenhorst started the third set and produced six kills on .750 hitting. Bergen Reilly and Lindsay Krause each had four kills.
Reilly had 32 assists and a team-high eight digs to pace the Husker defense. Beason also had eight digs.
Nebraska outblocked Long Beach State by a count of 9 to 6.5. Jackson and Bekka Allick each had four blocks, while Murray, Beason and Krause all had three.
The nation's No. 1 defense was suffocating once again, holding the Beach (3-4) to .055 hitting for the match.
Set 1: The Huskers went ahead 11-6 after Kennedi Orr checked in for the first time this season to serve and Beason and Murray followed with kills. NU's lead increased to 15-8 after two kills by Beason and a block by the junior opposite hitter with Allick. Jackson and Murray each tallied back-to-back kills to make it 21-16 Huskers, and the Huskers won 25-18 by hitting .462 and holding the Beach to .000.
Set 2: Krause had a pair of kills and a block with Jackson to help Nebraska build a 7-2 lead. Reilly placed a kill to the back row to start an 11-0 Husker run that made it 20-4. Choboy had an ace during her service run, and Jackson and Murray each had a kill and teamed up for a block. Beason and Murray blasted three more kills to take the lead to 16. The Huskers went on to win 25-8, hitting .308 in set two and limiting the Beach to -.267 with just three kills on 30 swings.
Set 3: Long Beach State took a 4-1 lead, but the Huskers answered with two kills by Batenhorst and one by Jackson to grab a 5-4 lead. The Beach came back to regain an 11-9 lead and remained ahead 13-11 when Jackson and Batenhorst pounded kills to make it 13-13. LBSU took a 15-14 lead into the media timeout, but Reilly and Murray came out of the break with kills and the Huskers went up 17-15 on a Beach error. Murray tooled the block for her 10th kill and an 18-15 lead, and Maggie Mendelson smacked a kill to make it 19-15 Huskers. After Long Beach pulled within 20-18, Mendelson earned a sideout kill after a timeout to make it 21-18 NU, but the Beach scored the next two points to get within one. A service error gave the serve back to the Huskers with a 22-20 advantage, and Jackson won a battle at the net to keep NU in front by two, 23-21. Batenhorst recorded her sixth kill of the set for match point at 24-21, and an ace by Beason sealed the match.
Up Next: Nebraska pays a visit to No. 5 Stanford on Tuesday at 8 p.m. (CT) on ESPN.
Copyright 2023 KOLN. All rights reserved.