Slightly above average temperatures and plenty of sun Wednesday through Sunday
Published: Sep. 27, 2023 at 8:31 AM CDT
NORTH PLATTE, Neb. (KNOP) -SCOTTSBLUFF,Neb.(KNEP)- The theme during the next few days will be filled with sunshine and slightly warmer temperatures for this time of year.
High pressure remains in control of the pattern during the days Wednesday into Sunday. With us being on the back end of the system, this will bring us warmer conditions. With a cold front draped on Northern Gulf Coast, this will prevent any humid conditions to come towards our direction. The high temperatures during this time will be in the low to mid 80s, with some upper 80s with lows in the 40s and 50s. The sun during the day and stars during the night will fill the sky with calm winds across the region.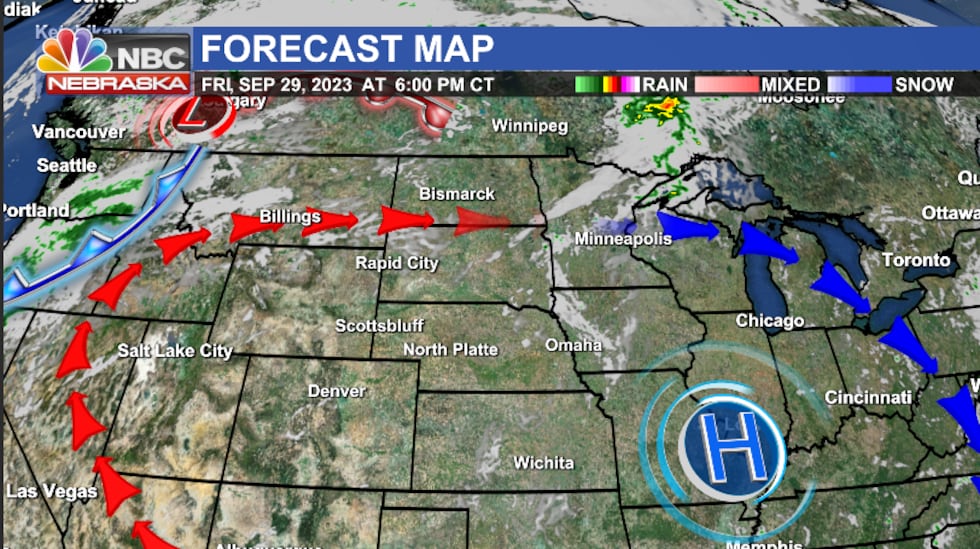 As head into Monday and Tuesday of next week, a weak cold front will push through the area. This will give us the isolated to near scattered thunderstorm chances during this time with highs dropping down into the mid 70s to low 80s.
Copyright 2023 KNOP. All rights reserved.