Strong to severe storms Tuesday; Cooler and sunny Midweek; Even colder with showers Friday
Published: Oct. 3, 2023 at 8:35 AM CDT
NORTH PLATTE, Neb. (KNOP) -SCOTTSBLUFF,Neb.(KNEP)- On the menu the rest of the week will be filled with strong storms, cooler temperatures, sunny skies and showers.
A strong cold front continues to push through the state of Nebraska. This cold front will ignite the chances of showers and thunderstorms across the area. Some storms could be on the strong to severe side, mainly along and east of Highway 83. Damaging winds, hail, and isolated tornadoes are quite possible. The main timing for the storms will mainly be between 2 p.m. CDT until 6 p.m. CDT. Partly to mostly cloudy skies otherwise during the day. Highs will be climbing only into the 60s in the Panhandle and 70s in Greater Nebraska, and lows in the 30s and 40s region wide. Breezy winds with speeds around 5 to 15 mph will be common and directions changing from southwest to northeast during the day.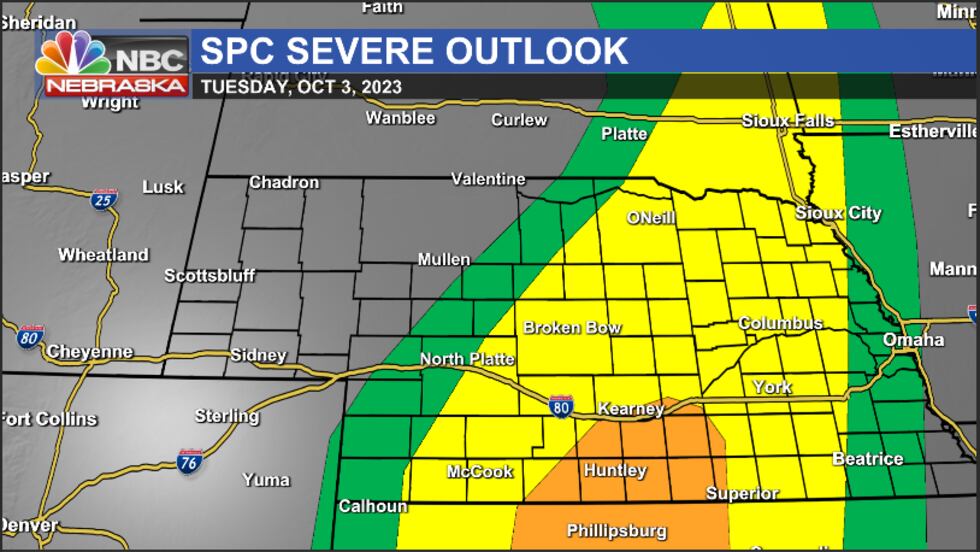 During the day Wednesday into Thursday, a high pressure system will be moving through. This will provide us with much cooler conditions across the area and more sunshine. Highs will only climb up into the 50s and 60s with a northwesterly wind moving into the area. Lows will drop down into the 30s and 40s during this time. Some areas could see frost overnight.
As we head into Thursday Night into Friday, another cold front will be pushing through the area, and will bring us even cooler temperatures across the area for our Friday. In addition, some light rain could occur during this time. Highs will drop into the 50s throughout the area, and lows in the 20s. Widespread frost and freeze is possible during this time. So remember the 3 Ps.
During the weekend into early next week, a new area of high pressure will be moving into the area, and this will bring in milder temperatures and plenty of sun. Highs will climb into the 60s and 70s during this time.
Copyright 2023 KNOP. All rights reserved.