Mild to warm temperatures with mainly sunny skies most of the week
Published: Nov. 13, 2023 at 6:49 AM CST
NORTH PLATTE, Neb. (KNOP) -SCOTTSBLUFF,Neb.(KNEP)- Looks like most of the week will be feeling like early fall than late fall with mainly sunny skies throughout the region.
High pressure will continue to bring in warmer air from the Southern United States. This is going to allow for the area to see above average temperatures during this time. Highs will be climbing up into the 60s to near 70 in some areas during the majority of the week, and lows in the 20s and 30s. Sunny skies will continue to cover the area throughout this time as well.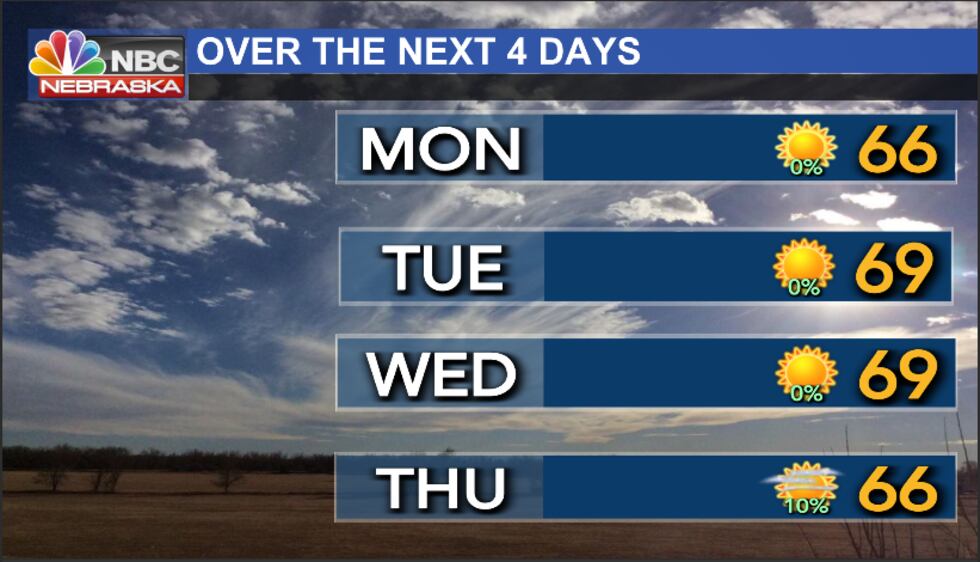 A weak cold front will push through Thursday into Friday, and that will bring in slightly cooler temperatures Friday, which will be in the 50s with dry conditions. Slight warmup Saturday, with highs in the 60s with dry conditions, and another cooldown Sunday with chance of rain due to another system.
Click here to subscribe to our NBC Nebraska News 2 daily digest and breaking news alerts delivered straight to your email inbox.
Copyright 2023 KNOP. All rights reserved.