Above average temperatures and sunny skies continue Tuesday into Wednesday; Slightly cooler and remaining parched rest of the week
Published: Nov. 14, 2023 at 6:36 AM CST
NORTH PLATTE, Neb. (KNOP) -SCOTTSBLUFF,Neb.(KNEP)- Our temperatures will continue to feel like September Tuesday into Wednesday, with ample sunshine continuing throughout the area. Things change as we get into the rest of the week into the weekend.
A southerly flow proceeds to bring us abnormally warm temperatures throughout the area Tuesday and Wednesday, where 70s will be commonplace for both Tuesday into Wednesday. Mainly sunny skies will be on the menu too, with breezy winds around 5 to 15 to near 20 mph at times. Overnight lows will be in the 20s to 30s during the next couple of days.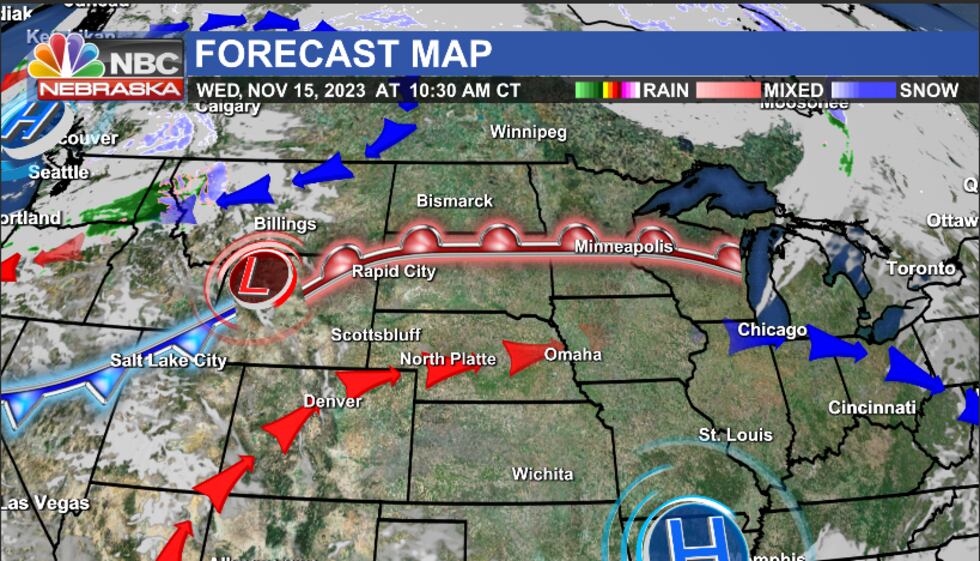 Once we get into the day Thursday, a cold front will be pushing in and this will increase the clouds and give us slightly cooler air Thursday into the weekend. Highs will drop into the 50s and 60s during this time. Another significant system will be pushing into the area Sunday into Monday, and this system could provide the area with some rain. Temperatures will be tanking into the 40s during the day Monday, being closer to normal for this time of year.
Click here to subscribe to our NBC Nebraska News 2 daily digest and breaking news alerts delivered straight to your email inbox.
Copyright 2023 KNOP. All rights reserved.