Markowski powers Huskers past Alcorn State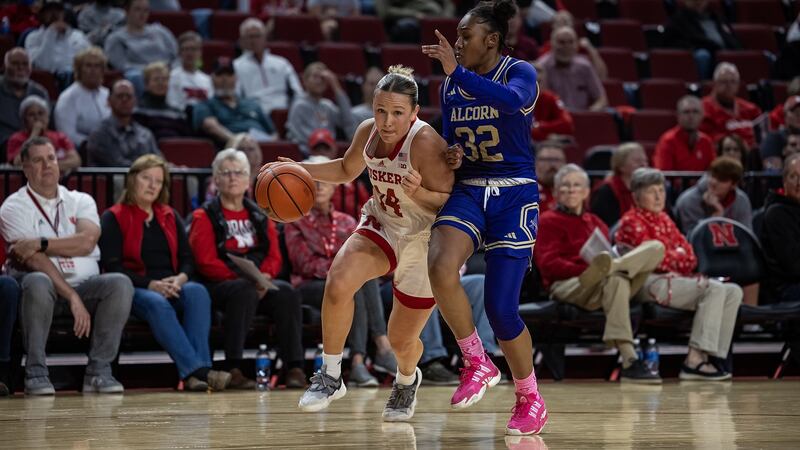 Published: Nov. 14, 2023 at 11:14 PM CST
Lincoln - Alexis Markowski scored 20 points and grabbed nine rebounds to lead Nebraska to a 79-32 women's basketball win over Alcorn State on Tuesday night at Pinnacle Bank Arena.
Markowski hit 6-of-11 shots from the field and 8-of-10 free throws to post Nebraska's first individual 20-point performance of the season. Her strong play inside helped the Big Red improve to 3-0, while Alcorn State slipped to 0-2.
Callin Hake added a strong offensive performance with a season-high 14 points to go along with a career-high seven rebounds, while pitching in three steals and two assists. Hake stepped up early in the game after starting guard Jaz Shelley left with a lower leg injury less than three minutes into the contest.
Freshman guard Logan Nissley added the first double-figure scoring effort of her college career with 10 points on 3-of-5 shooting, including a pair of three-pointers to bolster the Big Red backcourt.
All nine Huskers who played in the game scored at least three points.
While Nebraska's offense was fairly efficient, its defense was suffocating from start to finish. The Huskers used back-to-back 16-0 runs in the first half to build a 49-15 first-half lead. In fact, the Huskers held the Lady Braves without a field goal for nearly 17 minutes from 7:26 left in the first quarter to 33 seconds left in the half, when Arene Iyekekpolor hit a three-pointer.
Nebraska continued to play solid defense in the second half, holding the Lady Braves to 17 points in the final 20 minutes. The 32 points allowed tied for the eighth fewest surrendered in Husker history and the lowest total in Amy Williams' eight seasons as NU's head coach.
The Huskers finished at 49 percent (24-49) from the field and 31.6 percent (6-19) from long range while hitting 25-of-36 free throw attempts and forcing 31 personal fouls on Alcorn State. Nebraska out-rebounded ASU, 52-31. Alcorn State closed at 19.7 percent (12-61), including 2-of-15 from beyond the arc (.133), while hitting just 6-of-8 free throws against a Husker team that committed just 10 fouls.
Reigning Big Ten Freshman-of-the-Week Natalie Potts finished with seven points and career highs of 11 rebounds and three blocked shots, while fellow freshman forward Jessica Petrie added career highs of eight points and six rebounds.
Kendall Coley added five points and tied a career high with seven rebounds, while adding three assists, a block and a steal. Kendall Moriarty contributed six points and three assists, while Darian White added six points, five rebounds and three assists.
The Huskers separated themselves early, closing the first quarter by outscoring the Lady Braves, 22-2. Markowski and White each pitched in six points in the big spurt. NU forced six turnovers in the first 10 minutes and put up 11 points off turnovers, ending the quarter with a 29-8 lead.
Nebraska continued its scoring streak in the second quarter, starting the period with an 18-2 surge. Markowski put up 12 first-half points, followed by Hake's seven. At the half, the Huskers had hit 55.6 percent (15-27) of its shots from the field, including 3-of-7 threes (.429) and 16-of-20 free throws, while holding ASU to just 17.2 percent (5-29), including 1-of-9 (.111) from long range. The Huskers won the first-half rebounding battle, 27-14, and were plus-three in turnovers, 10-7.
Destiny Brown led Alcorn State in scoring with nine points, while Nakia Cheatham grabbed nine rebounds.
Nebraska returns home on Sunday, Nov. 19 to battle Creighton at 1 p.m (CT). Tickets are on sale now at Huskers.com The game will be televised on the Big Ten Network and radio coverage will be provided by the Huskers Radio Network.
Click here to subscribe to our 10/11 NOW daily digest and breaking news alerts delivered straight to your email inbox.
Copyright 2023 KOLN. All rights reserved.