A Rollercoaster Weather Trip in store for the area over the next several days
Published: Nov. 15, 2023 at 8:39 AM CST
NORTH PLATTE, Neb. (KNOP) -SCOTTSBLUFF,Neb.(KNEP)- The weather over the next several days will be feeling like we are on a weather rollercoaster with conditions all over the place.
We start on Wednesday, where temperatures will be in the 70s with mainly sunny conditions and breezy winds, with speeds around 5 to 15 mph, and the direction coming out of the south. Thursday into Friday, a cold front will be moving through the area and this will increase the clouds Thursday, and the clouds clearing out Friday. Highs will climb into the 50s and a few 60s. 60s will continue Saturday with mainly sunny skies and a southerly flow returning across the area.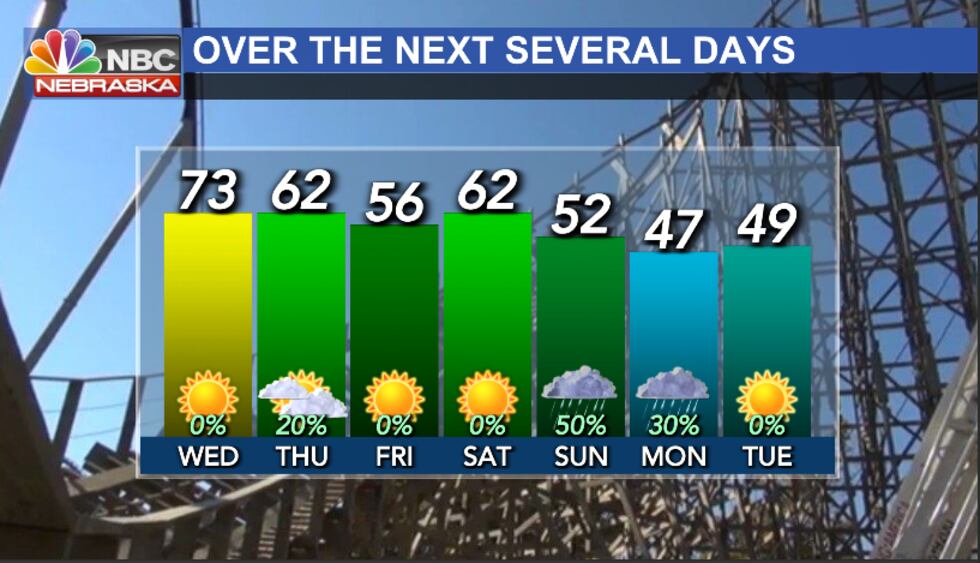 As we enter Sunday into Monday, another storm system pushes in, and this feature will bring in an increase of rain showers and cooler temperatures. Highs will drop down into the 40s and 50s. Conditions will clear out again Tuesday, with temperatures remaining into the 40s to near 50 in some areas.
Click here to subscribe to our NBC Nebraska News 2 daily digest and breaking news alerts delivered straight to your email inbox.
Copyright 2023 KNOP. All rights reserved.