2023 Western Conference Fall Sports Teams
Several local athletes selected for all conference teams in football, volleyball, and softball.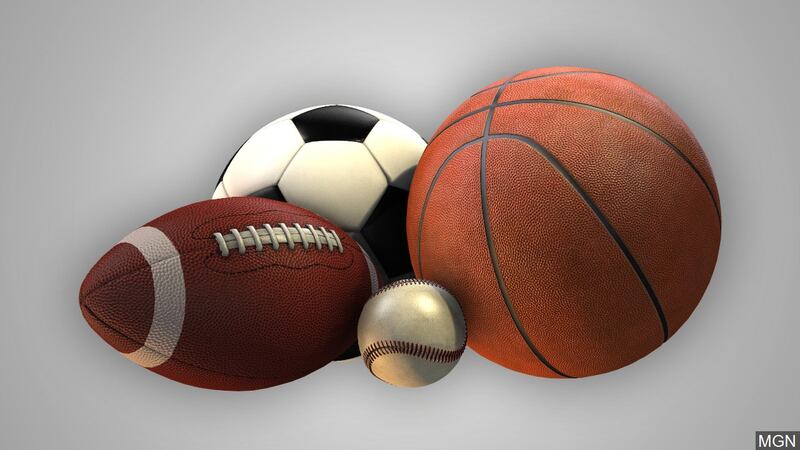 Published: Nov. 16, 2023 at 1:29 AM CST
SCOTTSBLUFF, Neb. (KNEP) - Local athletes selected for annual Western Conference football, volleyball and softball teams.
All Western Conference Softball
First Team Selections: Ciara Hudson (Alliance), Diane DuBray (Alliance), Hannah Schneider (Alliance), Kinley Richardson (Chadron), Maci Rutledge (Chadron), Sarah Wiese (Gering), Gabby Moreno (Gering), Jacelyn Brown (Gering), DaNae Savala (Gering), Tatum Heimerman (Scottsbluff), Marly Laucomer (Scottsbluff), Aleigh Portenier (Scottsbluff)
Honorable Mention: Jenna Spengler (Scottsbluff), Zoey Paez (Scottsbluff), Elizabeth Wiese (Gering), Makayla Michaelson (Gering), Sarah LeBere (Chadron), Cali Hendrickson (Chadron), Hallie Schneider (Alliance), Kaiya Hudson (Alliance)
All Western Conference Volleyball
First Team Selections: Jaelynne Clarke (Alliance), Haylie Winter (Alliance), Demi Ferguson (Chadron), Alex Gonzalez-Orozco (Gering), Jaxi John (Gering), Emma Robbins (Mitchell), Ella Foote (Scottsbluff), Paige Horne (Scottsbluff), Taylor Hafeman (Scottsbluff), Karsyn Leeling (Sidney), Carli Black (Sidney), Kierra Schrader (Sidney)
Honorable Mention: Payton Schrotberger (Sidney), Deanna Horst (Sidney), Allie Darnell (Scottsbluff), Emma Hergenreder (Scottsbluff), Addy Bowlin (Mitchell), Aimee Morales (Mitchell), Jacey Cochran (Gering), Taverra Sayaloune (Chadron), Jaleigh McCartney (Chadron), Regan Braun (Alliance), Kinley Pfeifer (Alliance)
All Western Conference Football (Bold= All B5 District First Team)
First Team Selections: Landon Crowe (Alliance), Tristen Timbers (Alliance), Quinn Bailey (Chadron), Broc Berry (Chadron), Gage Wild (Chadron), Caden Buskirk (Chadron), Tanner Gartner (Gering), Grady Robbins (Gering), Cael Peters (Mitchell), Santiago Castillo (Mitchell), Desmonde Smith (Mitchell), Jackson Jenkins (Mitchell), Jeremiah Coley (Mitchell), Ace Hobbs (Mitchell), Sebastien Boyle (Scottsbluff), Jhett Webb (Scottsbluff), Nate Kelley (Scottsbluff), Franke Trevino (Scottsbluff), Isak Doty (Sidney), McGuire Rolls (Sidney), Luke Holly (Sidney), Landon Riddle (Sidney), Patrick McCartney (Sidney), Reid Fiscus (Sidney)
Honorable Mention: Keian Kaiser (Sidney), Cole Hanley (Sidney), Alek Doty (Sidney), Owen Gillham (Sidney), Apolo Camacho (Scottsbluff), Cord Symons (Scottsbluff), Ryan Hinman (Scottsbluff), Tallon McDonald (Scottsbluff), Landon Murphy (Mitchell), Wyatt Sauer (Mitchell), Bennett Lebruska (Mitchell), Lukah Schwerey (Mitchell), Zach Aguallo (Gering), Jackson Harriger (Gering), Creighton Beals (Gering), Bo Gable (Gering), Owen Wess (Chadron), Jon Fintel (Chadron), Braden Wright (Chadron), Blake Rhembrandt (Chadron), Jeff Herian (Alliance), Matt Moomey (Alliance), Jonah Amill (Alliance), Luke Weems (Alliance)
Copyright 2023 KNEP. All rights reserved.