Mild and sunny conditions Tuesday into Wednesday; Possible accumulating snowfall Thanksgiving into Saturday
Published: Nov. 21, 2023 at 8:33 AM CST
|
Updated: Nov. 21, 2023 at 8:36 AM CST
NORTH PLATTE, Neb. (KNOP) -SCOTTSBLUFF,Neb.(KNEP)- The weather will be on our side as far as traveling Tuesday into Wednesday. However, conditions will deteriorate as we get into Thanksgiving into Saturday.
High pressure will be presenting itself over the next couple of days. It will provide the area with mainly sunny conditions for both Tuesday into Wednesday. On top of that, it will give us above average temperatures, with highs in the 50s on Tuesday, and 60s on Wednesday. Lows each night will be in the 20s and 30s with breezy winds around 5 to 10 mph.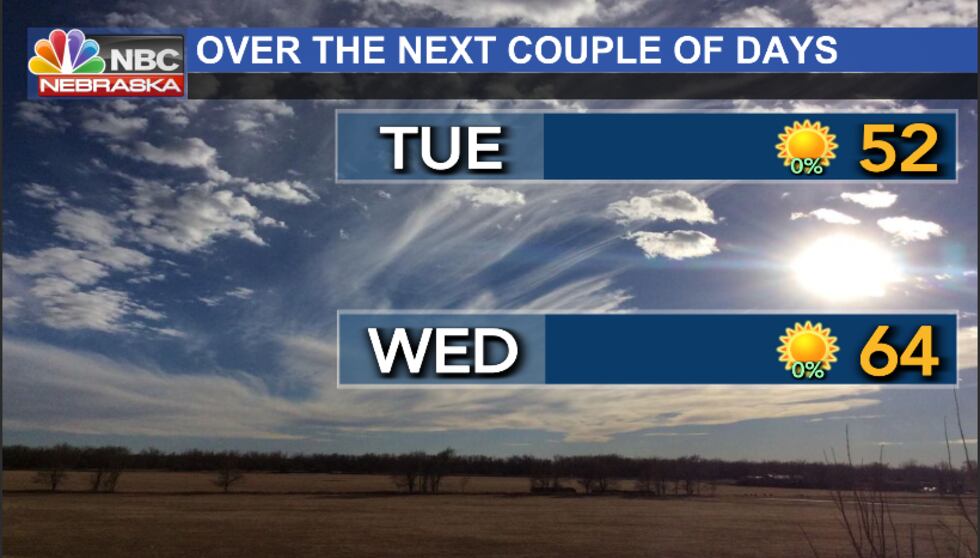 During Thanksgiving into Saturday, a strong cold front, along with an area of low pressure will be moving into the area. These features will present the favorable pattern of providing not only temperatures dropping into the 20s and 30s for highs, and 0s and 10s for lows, but also the chance of seeing accumulating snowfall for a good deal of the area, especially Southwest Nebraska and the Nebraska Panhandle. Conditions will start on the mostly cloudy to cloudy side during the day Thanksgiving, with snowfall increasing in the Panhandle by late afternoon Thanksgiving. Snow will then rapidly increase overnight Thanksgiving into Black Friday. Snowfall amounts that could occur will be 1 to 3 inches east of Highway 83, and over 3 inches elsewhere. People that have to travel during this period of time need to continue to monitor the latest News 2 weather updates, because these conditions will be hazardous for people on the roads and in the airways.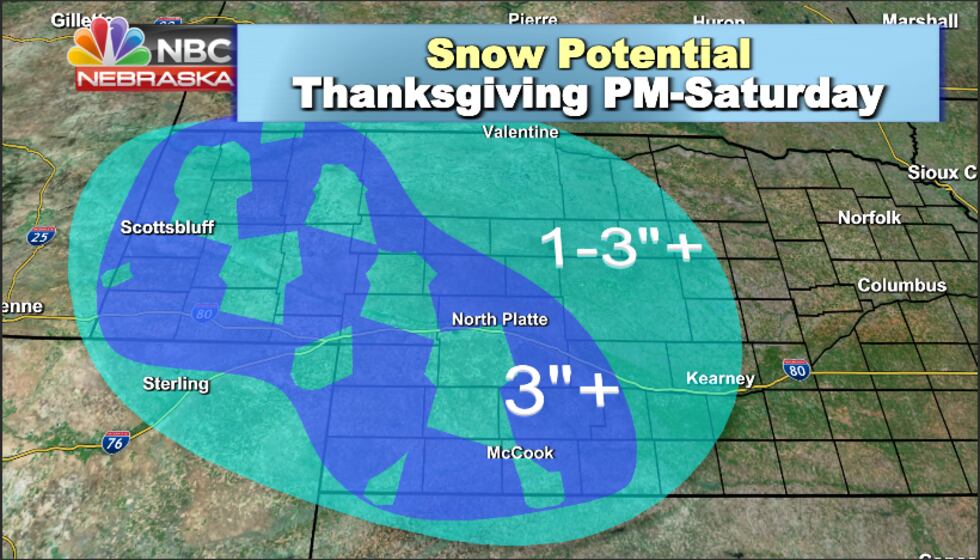 Click here to subscribe to our NBC Nebraska News 2 daily digest and breaking news alerts delivered straight to your email inbox.
Copyright 2023 KNOP. All rights reserved.